Indianapolis, Indiana is the 17th most populated city in the United States, home to 876,000 people. The economy in this Indiana city is as varied and diverse as its population, and is home to three Fortune 500 companies: Anthem Inc. Eli Lilly, and Simon Property Group. Culture and performing arts in the city are abundant, and most notably include the Indianapolis Museum of Art at Newfields, the Indianapolis Art Center, the Indiana Repertory Theatre, and the Indianapolis Symphony Orchestra, along with many others. Sports enthusiasts are able to enjoy two major league sports teams, the NFL's Indianapolis Colts and the NBA's Indiana Pacers, as well as college level sports, and of course, the Indianapolis Motor Speedway, which hosts the world-famous Indianapolis 500.
Indianapolis Injury Attorneys at Your Service
Indianapolis residents have access to all the services you would expect in a city of its size, including legal services. For cases involving personal injury, our lawyers are available to assist victims with their injury case. Hensley Legal Group, based in Indianapolis, assists clients across the entire state of Indiana with all types of injury claims, including but not limited to:
Indianapolis Car Accident
Over 82% of the Indiana workforce chooses to commute to and from work in their own vehicle, whether it be car, truck, or SUV. With a population of over 6 million people, that is a lot of drivers on the road, increasing the odds that you will be involved in a car or truck accident during your lifetime. 
Road congestion is only one contributing factor in car accidents. Other factors include: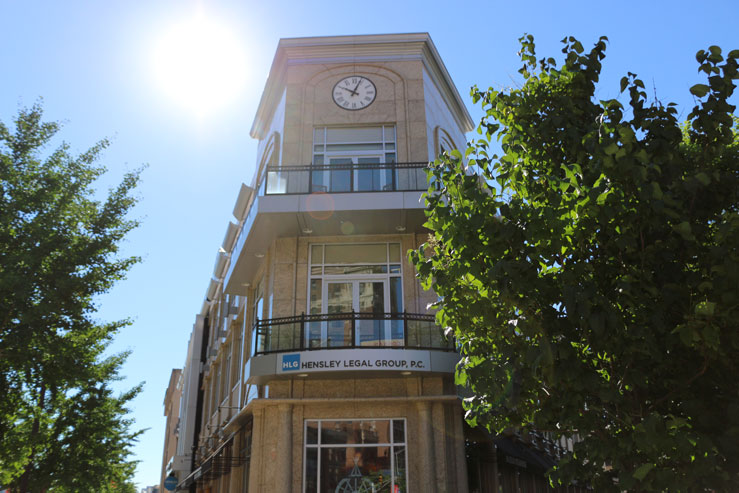 Excessive speed, or driving too fast for road conditions

Drowsy driving, falling asleep at the wheel
Distracted driving, includes eating, drinking, cell phone use or texting
If you have been injured in a car accident due to the negligence or carelessness of another driver, you have a right to reasonable compensation. Indianapolis car accident lawyers can help with your injury case. Compensation may include medical expenses, pain and suffering, lost wages, and loss of companionship.
Medical Expenses: Compensation for all medical bills incurred as a result of an accident. This includes treatment you have received and treatment that may be ongoing into the future.
Pain and Suffering: This includes physical pain suffered because of injuries sustained in the accident, including the detrimental effects that will persist in the future. It also includes mental pain, emotional distress, shock, anxiety and other symptoms.
Lost Wages: Missing work due to an accident negatively impacts wages and salary immediately and also impacts wages that can be made in the future. Some injuries are so severe that a whole career and ability to support oneself and family is lost. "Loss of earning capacity" is included in this compensation.
Loss of Companionship: Emotional damage occurs when a person is injured in a way that impacts important relationships such as with a spouse or children. If a person is killed, the family loses support, family bonds, and comfort. These damages fall under loss of companionship.
Car accident injury claims can be complex. Success or failure in seeking compensation can have repercussions that extend far into the future. The Indianapolis personal injury attorneys at Hensley Legal Group understand accidents and accident victims. They know that every case is unique and personal. Call Hensley Legal Group at (317) 526-1440 for a free case consultation.

"I am extremely satisfied with the services that were provided to me from Hensley Legal Group. Everyone was absolutely amazing and I could not have asked for a better team."
Wrongful Death Accidents
Losing a loved is always heart-wrenching. When that loss occurs because of someone else's negligence, it is even more traumatic. In addition to emotional devastation, families are often faced with a heavy and unexpected financial burden. These cases are best handled by a law firm with experience and compassion. Indianapolis personal injury attorneys with Hensley Legal Group are available to assist families pursuing compensation.
A wrongful death suit is filed by a personal representative of the deceased, usually the next of kin, who files on behalf of the family. Compensation from a successful settlement typically goes to the surviving spouse, dependent children, and dependent next of kin. In some instances, siblings are also qualified to receive compensation.
After the loss of a loved one, a skilled attorney or law firm will seek compensation in the following areas:
Funeral and burial costs

Medical expenses occurring prior to death

Pain and suffering

Loss of financial support

Estimated lifetime income

Loss of companionship
The statute of limitations is a time limit or stated deadline, after which a personal injury claim for wrongful death cannot be filed. In the state of Indiana the statute of limitations is two years from the date of death. It is important to contact a law office sooner rather than later to discuss your legal situation. For legal representation in Indianapolis,46204 call us today, Hensley Legal Group (317) 526-1440.
Medical Malpractice Claim
When we are sick or injured we place our trust in medical professionals to take care of us. We expect competent, skilled medical care and treatment. Not every medical outcome is what we hope it will be, but when a poor outcome is the result of negligence on the part of any medical staff, it is considered medical malpractice.
At Hensley Legal Group, medical negligence is one of the more complicated injury cases we handle. Most cases involve negotiating with an insurance company, and with expensive hospital legal representation. Victims of medical negligence face an uphill battle if they try to prove their case without an experienced personal injury lawyer on their side. An overwhelming amount of evidence must prove that negligence did occur in order for the claim to be successful. The defendant's insurance company will have a law firm on their side and so should you.
Examples of medical negligence include:
Diagnosis failures including missed diagnoses, delayed diagnoses and wrong diagnoses

Surgical errors or mistakes

Unclean or unsanitary conditions

Anesthesia mistakes

Medication errors, wrong medications, wrong amounts of medications

Medical procedure errors

Birth injuries

And more
Indiana has passed limits on the total amount that can be awarded in med mal cases. The laws and rules regarding a medical claim in Indianapolis are some of the most complex in personal injury law. 
If you have been a victim of medical malpractice in Indianapolis, it is crucial that you contact an attorney to discuss your case. Call us today at (317) 526-1440 for a free case evaluation. Having an experienced team of lawyers will make all the difference in a successful settlement.
Nursing Home Injury Law, Indianapolis, Indiana
Nursing homes and care centers are given the ultimate trust, to care for our loved ones when they are no longer able to care for themselves. Nursing homes are unique in that they provide a broad and all-encompassing range of services for our loved ones, including food, shelter, hygiene, medical care, therapy, social activities and so much more. Unfortunately, this broad range of care also creates multiple situations where abuse and neglect can occur.
If you suspect your loved one isn't receiving proper care or is being abused in some way, report it to authorities immediately. Information can be found on www.eldercare.gov or contact an attorney experienced in assisted living facility abuse. An experienced law firm can help you make a report and assist in finding a safe environment for your loved one.
The law office of Hensley Legal Group in Indianapolis, IN 46204 have lawyers available to assist in cases of assisted living neglect or abuse.
Signs of Nursing Home Abuse or Neglect
Increase or change in depression, confusion, agitation, withdrawal from peers, refusal to participate in activities.

Weight loss without a reported change in diet or exercise. This may indicate the resident is not being fed or not being fed an adequate amount.

The resident is unkept, unclean, isn't being showered or bathed regularly.

Unexplained bruises or infections.

Sudden increase or changes in medication without explanation or notification
The personal injury attorneys at Hensley Legal Group take assisted living  neglect seriously and are dedicated to fighting for your loved one's rights. If you suspect a family member is being neglected or abused in a care facility, the compassionate lawyers at Hensley Legal Group are on your side. Call us at (317) 526-1440 for a free conversation about your nursing home abuse claim.
Indianapolis Workers' Compensation Attorney
If you are injured at work you and your employer are both covered by workers' comp insurance. Some claims are straightforward and easily resolved by filing a report and working through the compensation process already in place. But if your claim is denied, things can get complicated fast. A personal injury attorney with experience in workers' comp can help you appeal your denied claim and work toward a solution.
A workers' compensation claim can be denied for many reasons, that does not mean you don't have a legitimate case. Insurance companies, including those that provide workers' comp insurance, are often motivated to deny claims to avoid paying out large sums. Common reasons for claim denial are:
Pre-existing conditions.

Insurance companies may claim that the injury already existed or is a long-standing condition and deny the claim. However, if a work accident or injury caused an aggravation or worsening of an existing condition it is covered by workers' compensation.

Failure to report incident.

If you are injured at work you must report it to your supervisor immediately. It is wise to submit a verbal and written report and keep a dated copy for your records. There are a multitude of deadlines and procedures involved in successfully settling a claim. It is in your best interest to contact an attorney as soon as possible after the accident to avoid these costly mistakes.

Lack of medical evidence.

An insurance company may deny a claim based on insufficient medical evidence to support the claim. Accidents don't always occur at the most convenient time, and when you are injured there is a lot to think about, keeping a paper trail of every doctor visit, treatment, medical bill can be overwhelming. Experienced lawyers can help collect evidence, medical documents, arrange for second opinions and evaluations. If your claim is denied. Contact a lawyer for help.
Indianapolis Social Security Disability Benefits
Our personal injury lawyers can also help you with your Social Security Disability benefits and everything related to them. We also talk about different aspects of Social Security Benefits to help you understand how everything works. Take a look at the differences between SSDI and SSI in Indianapolis. If you claim has been denied, don't give up. We will review your case for free and then make a plan on how to help you receive your SSD benefits.
Dog Bite Injury Victims in Indianapolis, IN 46204
Man's best friend isn't always so friendly. With over 78.5 million dogs in the United States, there are bound to be more than a few bad apples. There are, on average, 4.7 million dog bites every year and 800,000 of those incidents resulted in injuries requiring medical care.
Dog bites are always painful, and can be severe enough to cause significant harm and even long-term disability and disfigurement. Indiana's law allows for victims of dog bites to sue for damages and receive compensation for medical bills, pain and suffering, and any lost income.
Proving a dog bite case isn't always easy due to Indiana's "one bite" rule, which states that a dog owner is only liable if he or she knew, or should have known, that their dog was likely to bite. Negligence by the dog owner must be proven with evidence. Having a personal injury lawyer can help provide the evidence needed to prove negligence in a dog bite case.
If you or a loved one have sustained injuries from a dog bite in Indiana, call Hensley Legal Group today at (317) 526-1440.
Indianapolis Personal  Injury Lawyers Serving Our Community
Anyone can start a business in a city and try to profit from it. But we're not interested in how Indianapolis can serve us. We're much more interested in how we can serve Indianapolis.
We've partnered with numerous local charities over the past 20 years to help make our hometown a better place. You may have seen us racing for a cure for cancer, putting on a soccer camp for local kids, or buying Christmas presents for foster kids in Marion County. Maybe you've seen us passing out water at the Monumental Marathon or cleaning up the Oliver's Woods Nature Preserve on an overcast Indianapolis afternoon. Perhaps you know a high school student who received our Hensley Legal Group Scholarship.
Hensley Legal Group, PC
117 E Washington St #301
Indianapolis, IN 46204
(317) 526-1440
Hensley Legal Group Indianapolis Personal Injury Attorneys
The award-winning Indiana law firm, Hensley Legal Group, believes that everyone deserves justice, regardless of financial status. By working on a contingency only basis, they ensure that all victims have access to injury law. Hensley Law Group only gets paid if they successfully resolve your case. No upfront fees are required to start working your case. For a free evaluation, fill out the convenient contact form at www.hensleylegal.com or call today at (317) 526-1440. The team at Hensley Legal Group is committed to helping Indiana accident victims receive the justice they deserve.